Day One of free agency was a busy one for the Calgary Flames. The team acquired goaltender Jacob Markstrom, defensemen Chris Tanev and Alexander Petrovic, as well as re-signing a trio of Stockton Heat depth players. Day Two was not nearly exciting, but the team did put pen to paper on goaltender Louis Domingue, provide the team with a third option in net and give some depth in the AHL.
After all of that, the Flames roster is now beginning to take shape and the team sits with just over $5.7M in cap space at the time of writing. Lots to work with right? Well not really.
Ryan Pike (@RyanNPike) of FlamesNation broke down the situation and gave his best guess as how the remaining contracts will pan out, and it's starting to get a bit tight:
Our breakdown of the cap situation using CapFriendly has similar but different numbers, and the Flames still end up in an uncomfortably situation: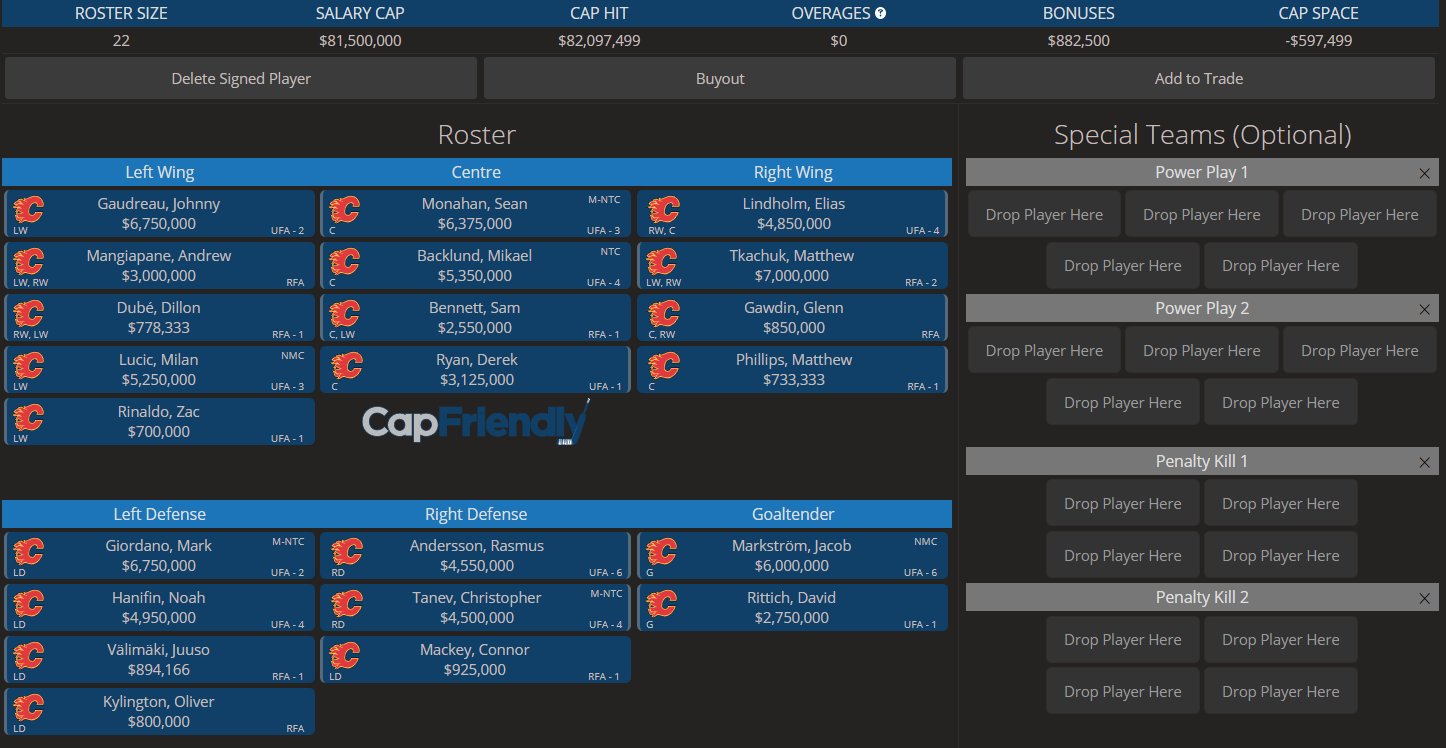 This projection puts them over the limit, assuming that Andrew Mangiapane gets a hefty raise. So realistically, the Flames options are starting to dwindle. That being said, in the offseason the team is able to exceed the upper limit of the salary cap, with the start of the season being the deadline to get back in compliance. This leaves the team with some options to sign additional players, while looking for a potential trade or money moving deal to accomodate.
Left on the UFA market are some intriguing names that the Flames should look into, and within reason, be able to afford on their payroll.
Forwards
The Flames are in need of a right handed shot winger that can play up and down the lineup, preferably in the bottom six. This is what we found:
Josh Leivo Signed (CGY, 1 Year, $875,000 AAV)
We had already identified Josh Leivo as a potential target for the Flames prior to Free Agency opening, but now it makes even more sense. Leivo is a right handed shot, fast, and play making winger that could come relatively cheap is an easy upgrade over the current forward depth that the Flames have.
Seven goals, and nineteen points, in just 39 games last year leaves something to be desired for Leivo. With the Canucks losing a few players to free agency already, it's likely they would want him back, but could Leivo continue the Vancouver exodus to Calgary?
He made $1.5M last season, and it's likely based on the current market that he could sign for less. It would be a tight squeeze, but would be a huge addition at this point in the game.
Trevor Lewis
Trevor Lewis presents an interesting target for the Flames if interested. He can play a variety of roles, has a right shot, and provides playoff experience. He only registered six goals and six assists in 56 games last season, but the way the team in LA is heading they may not have room to re-sign the veteran forward.
I'm not saying this is the best option for the Flames, but I wonder if they try to bring in a veteran presence along the bottom six to align with Milan Lucic so it's not completely Stockton products next year?
Austin Czarnik Signed (NYI, 2 Years $725,000 AAV)
Speaking of Stockton, the Flames could always go back to Austin Czarnik on another short term deal. It's more likely that Czarnik would want a better opportunity for NHL minutes somewhere else, but if he prefers the Flames organization then this is as good a year as any for him to get consistent minutes.
The tough part about Czarnik is that he is an excellent AHL player, but has never fully transitioned to the NHL game. He has the tool set, but the jump up just never seems to work out well for him. He never seemed to fall into favour with Bill Peters, with his last NHL game coming before Peters' firing.
Geoff Ward never seemed to utilize him, opting for Alan Quine, Tobias Rieder, Buddy Robinson, and Zac Rinaldo. Perhaps given a fresh start in training camp gives him the opportunity he needs?
Corey Perry
This feels wrong, and is most likely the biggest far fetched idea of them all, but Corey Perry legitimately could be a fit. A right handed shot winger, clear playoff experience, and plays with….and "edge". The idea in my head and on paper seems like it wouldn't work, but at the same time it may be an option the team looks towards.
Perry may have improved his stock enough to warrant a raise, but a similar performance bonus laden contract could work under the Flames cap. Now of course, the chances of Perry wanting to come to Calgary are slim to none, but just imagine Matthew Tkachuk, Lucic, and Perry on the same team? Chaos.
Defense
After the Tanev signing, there is a clear hole on the right side of the final pairing. This could easily belong to Petrovic, or if they want to play Oliver Kylington on his offside, but I feel as if there is one more signing to be made to fill that spot.
Originally our top target was the likes of Zach Bogosian, who fit the bill perfectly. Unfortunately, he inked a 1 year $1M contract with the Maple Leafs yesterday afternoon and therefore he is no longer an option. That being said, there are others options available.
Jan Rutta
Jan Rutta was limited to just 33 regular season games last year, but made a handful appearances in the Tampa Bay Lightning's Stanley Cup run. He's a bottom pairing guy that doesn't move the needle too much in one way or another.
He would be cheap, and would provide some stability to the bottom pairing if he were to be with Juuso Valimaki. He's been an above average possession player, albeit on a fantastic Tampa team, but is a solid candidate for a league minimum contract for a season.
If it doesn't work out well, then it's more depth for Stockton. It's not always about the shine.
Madison Bowey
This may be the most unlikely option on defense thus far, due primarily to the price tag, but Madison Bowey would be an excellent option for the Flames. The 25-year-old defenseman was not qualified by the Detroit Red Wings after a career season in which he was making $1M a season. The Red Wings either viewed the qualifying offer of $1M to be a bit too rich for their liking, or they didn't see him as a long term option for their back-end.
Bowey still has some rust to his game that he would need to polish out, but to bring in a younger right shot D that could play with Valimaki sounds very appealing.
Michael Stone
I hate that I have to bring it up, the proverbial elephant in the room, but if there is one thing that I have learned about the Calgary Flames is that for some reason they love Michael Stone. As I mentioned before, the role that Stone plays is exactly what the team would be looking for. Many don't want it to happen, many pray that it doesn't, but at the same time the Flames could look to go with familiarity over an unknown.
It's likely that they wouldn't be using him in an extensive setting, but if the team really needed someone to fill that role, then Stone isn't the option. Not to manifest this into reality, but more of an awareness that this is a very on brand move the Flames could make.
There are many others right shot defenseman who are available on the market, but they are either too expensive to entertain or simply not much of an upgrade over the current depth. There also are a wealth of LHD who are available, but another one would cause there to be three fighting for one spot on the bottom pairing. It'd be counterintuitive to create a log-jam on one side and have gaps on the other.
The Flames aren't done yet
These possible UFAs could be coming to Calgary or not even be considered at all, but there is no doubt that more movement is on the way. The team will be trying to move additional money around to ensure that they can sign one more depth piece and fall within the cap. What that move will be remains to be seen, but don't be surprised if the shuffling continues to happen.
---
Who do you want to see the Flames sign? Let us know in the comments below!
Photo by: Darryl Dyck/CP