The Calgary Flames haven't had a great season so far. With their loss to the Ottawa Senators on Sunday night, the Flames' record dropped to 11-13-2, and they now sit in sixth place in the North Division after last night's games.
While they are just four points out of a playoff spot, the Montreal Canadiens have two games in hand over the Flames. It's not a pretty picture, but that's why Brad Treliving relieved Geoff Ward from his head coaching duties and hired Darryl Sutter as his replacement.
Treliving believes that Sutter is the guy to lead the Flames out of the hole they've dug themselves this season, but he'll have his work cut out for him. This is how various outlets are handicapping the Flames' playoff odds at this point of the season.
Money Puck
MoneyPuck is one of the leading playoff odds models in the public sphere. Right now, they have the Flames at just under 39% to make the playoffs. Montreal, the team the Flames are trying to catch, is at 92.5%. The team the Flames are just behind in terms of playoff odds is actually the Winnipeg Jets that are currently at 68.3% to make the playoffs.
SportsClubStats
SportsClubStats has the Flames at a pretty horrible 17.9% odds to make the playoffs. The loss on Saturday night to the Oilers dropped them down by a whopping 10.5%. A crucial loss, and the Flames will need to bounce back in the next few BOAs to make up for it.
hOCKEYvIZ
HockeyViz by Micah Blake McCurdy is arguably the best hockey analytics website on the Internet. Prior to the game last night, the Flames were at 45.3% to make the playoffs, and extremely far behind the four teams ahead of them. The Oilers are the closest at 74.3%.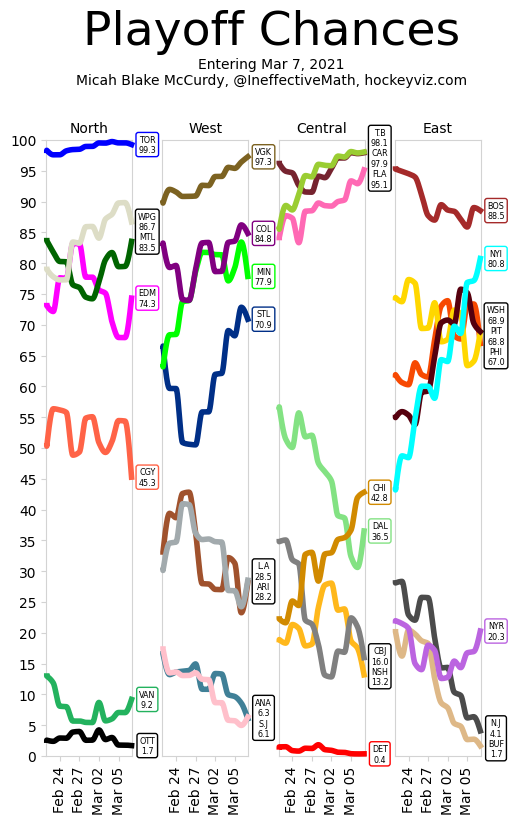 Dom Luszczyszyn
Dom Luszczyszyn from The Athletic has the Flames at 41% 5o make the playoffs, once again firmly behind the next Oilers for a top-four spot. The Oilers at 81% are almost double the Flames' odds. However, the team trailing the Flames, the Vancouver Canucks, are at just 6% to make the postseason.
Can Darryl Fix this?
No matter which odds board you look at, the Flames are in tough to make the playoffs this season with how things have gone so far. Sutter will need to turn this team into one that wins far more often than they lose if they're going to claw their way back into the playoff picture. With just 30 games left this season, it will be an uphill climb, and the odds are stacked against them. The next few weeks will tell us everything we need to know about this team.