It's no secret to any Flames fan that Johnny Gaudreau is entering the last year of his contract with the Calgary Flames. One of the cornerstones of the franchise and arguably the best player to suit up for the team in the last decade, Gaudreau's uncertain future is difficult to ignore.
However, that's exactly what Gaudreau and the team are planning to do this season, starting today when training camp opens for the 2021-22 season.
Sportsnet's Elliotte Friedman published his first 32 Thoughts blog last night, and it contained a very interesting nugget about Gaudreau: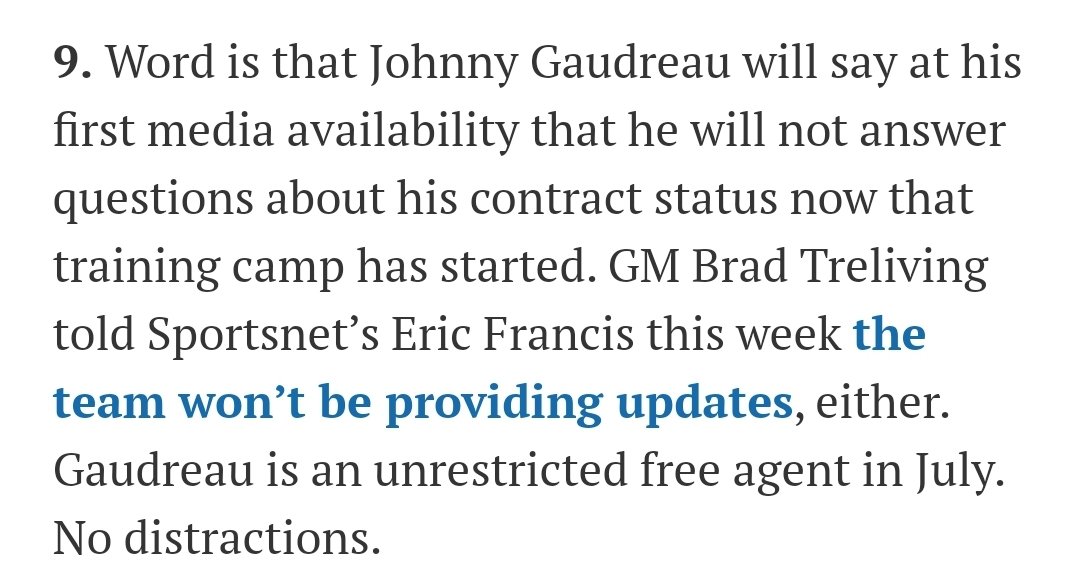 No distractions?
It makes sense on the surface, but there are a lot of things to unpack with this statement.
While it's nice to proclaim that the team doesn't want any distractions and wants to focus on hockey, the contract status of their top forward is not something that can be easily shoved to the back of everyone's minds. If the team didn't want any distractions, they should have re-signed him in the offseason. That would have done the trick but instead, they went out and spent money to acquire more depth players.
There's still hope an extension gets done behind the scenes though, and just because Gaudreau and the team aren't going to be providing any updates about the negotiations, you best believe Brad Treliving and Gaudreau's agent, Lewis Gross, will be talking lots during the season.
How will this affect the team's strategy going forward?
On the other side of things, it's also very possible Gross has told Treliving that he will not be engaging in any negotiation talks while the season is being played. Perhaps he will only discuss an extension during the Olympic break, or after the season is over, and that will definitely have an impact on how the team handles Gaudreau this season.
There are a few different scenarios to consider.
The Flames bounce back, led by a strong season from Gaudreau
This would be the most ideal scenario. With the Flames finding new life and Gaudreau continuing to stir the drink, this sets the stage for a long-term extension in Calgary. Gaudreau and his family have said many times that they love Calgary and love playing for the Flames, and with a resurgence from the entire team back to contender status, it would be very enticing for Gaudreau to stay.
An extension isn't a sure thing, though. The Flames would likely keep Gaudreau past the trade deadline and do their absolute best to re-sign him once the season concludes. It's a gamble because he could pull a John Tavares and leave for nothing, but it's a risk the Flames would take in this situation because they clearly want to make the playoffs and try to win a Stanley Cup.
The Flames have another disappointing season, but Gaudreau has a strong year
In this scenario, I can't see the Flames keeping Gaudreau past the trade deadline. If the team performs poorly again, there would be very little incentive for Gaudreau, a player who will be 29 years old when his next contract starts, to re-sign with a franchise that clearly isn't close to being a contender.
Especially if Gaudreau has a strong year and his trade value remains high, it just doesn't make sense to keep him past the deadline. It's less than ideal, but it could be the reality in this scenario.
The Flames bounce back, but Gaudreau has a down year
This scenario is the trickiest in my eyes. If Gaudreau struggles this season but the Flames as a team bounce back, it likely means other players stepped up and provided offense instead. As well, it probably means Gaudreau didn't fit into Darryl Sutter's system as well as he did at the end of last season, which makes it difficult to justify extending him past this season seeing as Sutter will be around for another two years.
In this case, we probably see Gaudreau dealt at the trade deadline. It would sting because the Flames wouldn't be trading him at his highest value, and under a more offensively driven coach, Gaudreau will almost certainly thrive.
The Flames have another disappointing season, and Gaudreau has a down year
In this scenario, nothing went right. The Flames have committed to Sutter which means they likely trade Gaudreau at the deadline here as well, simply because there wouldn't be anything to look forward to if he signed an extension.
The future of the Flames hinges on this season
Unless you have a mysterious vendetta against the player, there really isn't a logical case to be made that Gaudreau should not re-sign with the Flames.
He's been the most exciting and most dynamic player on this team for the better part of a decade, and without his skillset on the roster the Flames are essentially devoid of any elite-level talent. If the team is unable to sign him to an extension, losing Gaudreau would be a massive blow to the organization and likely sets them back several years. However, losing Gaudreau for nothing would be even worse, which is why the trade deadline is going to be massively important for this team this season.
As many times as they say it and as hard as they try, this season will not be distraction-free with Gaudreau's contract status hanging in the air. This won't go away until the trade deadline at the very least.
The best path forward would be the Flames and Gaudreau having great years, and working towards an extension as it happens.